1-Up
Talk

0
578pages on
this wiki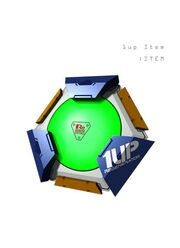 1-Ups are special items in Star Fox, Star Fox 64, and Star Fox: Assault.
In Star Fox, they can be achieved by hitting one of the three objects.
In Star Fox 64, they can be earned by points or collecting three golden shield rings a second time on one stage. They can also be found on some of the stages, but they are very rare. They are in a shape of an Arwing
In Assault they are usually hidden in either places, that are hard to reach or that nobody would expect.
1-Up is a name given to anything that raises a life in a video game. In the Mario series, a green mushroom called a 1-Up mushroom raises lives. In the Kirby Series, it is simply the word "1UP".
Bafomdads replace 1-Ups in Star Fox Adventures.