Aquas
Talk

4
579pages on
this wiki
Aquas

Ocean World of the Lylat System
Class:
W
Radius:
5,789 skm
Albedo:
0.45
Gravity:
0.873
Escape Velocity:
11.23 skm/s
Equilibrium Temperature:
280 Kelvin (6.85 Celsius)
Atmosphere:
76% N2 + 23% O2
Hydrographics:
97%
Biomass:
2,545 Quads
Aquas is one of two oceanic worlds of the Lylat System, sharing its characteristics with Zoness. Unlike Zoness, Aquas is completely covered by ocean. The site of an ancient civilization, the planet became an unexpected battlefield during the Lylat Wars.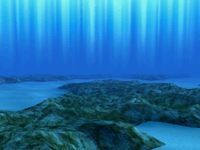 The entire surface of Aquas is covered with water, and abounds with a diverse range of aquatic life. Though generally harmless, some of Aquas' aquatic lifeforms can be extremely deadly, even to modern submersible vehicles. Ruins similar to those found on
Titania
point towards an ancient civilization that no longer exists, tangibly similar to the
Anglars
. The Ancient Civilization had originally ruled above the waves, where it built temples as well as harvesting aquatic life on Aquas. However, a monster underneath the waves,
Bacoon
, became jealous of the civilization's prosperity, and when it grew more powerful, it eventually learned to control the aquatic lifeforms. Bacoon then used this new found ability to command thousands of explosive starfish to migrate to the polar ice caps and explode, melting the polar caps and flooding the entire planet, thus ending the civilization.
For some unexplained reason, in the Slippy's Resolve ending, Slippy Toad seemed to be living on an island with his kids and grandchildren, even though Star Fox 64 implied that there were no islands on Aquas after Bacoon shattered the polar ice caps and flooded the entire planet.
In Star Fox: Assault on Corneria, during the mission "War Comes Home", a blue planet can be seen from the surface.
Possibly the island where Slippy lives at the Slippy's Resolve final of Star Fox: Command has arisen due to the movement of tectonic plates of the planet or the eruption of an underwater volcano.
References
Edit
NINTENDO POWER Starfox 64: Official Nintendo Player's Guide. Redmond, WA, Nintendo of America. 1997.