Area 6
Talk

0
579pages on
this wiki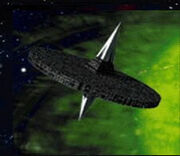 Area 6, also known as the Venom Air Defense Zone, is an area of space in orbit above the planet Venom. It is the location of a major conflict during the Lylat Wars in Star Fox 64.
Plot Overview
Edit
Area 6 was the location of the most convenient atmospheric re-entry point in striking distance of Andross' home base. For this reason Area 6 was the most heavily defended region of space in orbit of Venom. The area was protected by thirty-one Umbra-class Defense Stations, seven Harlock-class Frigates, twelve Zeram-class Cruisers, minefields, swarms of fighters, five Ninjin Missiles, and the Gorgon battle station. The units were distributed into three defensive lines to prevent the infilitration of Venom airspace.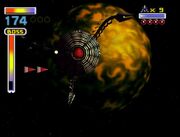 Having already dramatically impacted the Venomian effort to suppress the Cornerian rebellion, the Star Fox team was poised outside the Area 6 Defense Station, a Venomian armada and defensive array guarding a strategic re-entry corridor. In the closing moments of the Lylat Wars, the
Star Fox
team made a brazen attempt to force their way through Area 6, with the intent of conducting a raid on Andross' key facility. With support from the Great Fox, the arwings were able to penetrate the Venomian defensive lines and fend off the larger, more heavily armored, enemy spacecraft. In a last bid to destroy the Star Fox team, the Venomians deployed the
Gorgon
. During the confrontation which followed, Peppy Hare intuited a means of destroying the station which he relayed
Fox McCloud
. McCloud used this to disable the shield protecting the station's core and was subsequently able to destroy the station using the arwing's lasers. After sustaining heavy damage, the station began shedding debris, and was destroyed in a spectacular explosion. Having infiltrated Venom's defensive perimeter, the Star Fox team began their descent to the Planet's surface.
Two remixed versions of the Area 6 music appears in Super Smash Bros. Brawl.
After the activation of a certain cheat, this music can also be heard from the jukebox in the main menu of Star Fox Adventures. It was the original final boss theme, before it was changed to a remix of Andross' theme.
Area 6 has a small resemblance with the Space Armada in the original Star Fox game, although its location more closely resembles the orbital stages of Venom from the original.
In Star Fox Command, the theme for Fox when he battles an Angler Mothership is Area 6.
References
Edit
NINTENDO POWER Starfox 64: Official Nintendo Player's Guide. Redmond, WA, Nintendo of America. 1997.