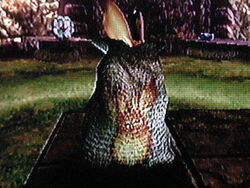 Bafomdad Holder is an item in Star Fox Adventures.
Purpose
It is used to carry more Bafomdads than Fox is initially capable of. First, Fox can carry only one at a time, but after buying the Bafomdad Holder in ThornTail Store for the default price of 20 Scarabs, he can carry as many as ten at a time. It looks like a simple potato sack, with a Bafomdad poking its head out. Fox can only purchase this Holder after getting his first Scarab Bag from a friendly SnowHorn at Ice Mountain just after rescuing Prince Tricky. When the Holder is full, any Bafomdads will just remain idle.
Ad blocker interference detected!
Wikia is a free-to-use site that makes money from advertising. We have a modified experience for viewers using ad blockers

Wikia is not accessible if you've made further modifications. Remove the custom ad blocker rule(s) and the page will load as expected.