| | |
| --- | --- |
| | We need your help, users! This article/section is a stub, meaning there is little information to fill its contents and needs more information to expand it upon. If you know any information taken from gameplay or strategy guides, you can help Arwingpedia's article by expanding it. Referenced sources are appreciated. Hurry users! |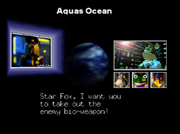 A
Bioweapon
is a living organism altered via artificial means (either by cybernetic enhancement, genetic engineering or some combination of the two) to serve as a weapon of war.
Andross
created and utilized several of these during the
Lylat Wars
.
List of Bioweapons
Unconfirmed
Names in Other Languages
| Language | Name |
| --- | --- |
| Japanese | (バイオウェポン) |
Ad blocker interference detected!
Wikia is a free-to-use site that makes money from advertising. We have a modified experience for viewers using ad blockers

Wikia is not accessible if you've made further modifications. Remove the custom ad blocker rule(s) and the page will load as expected.