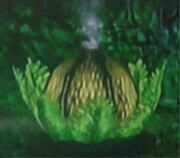 Bomb Spore Planting Patches
are small, brown patches of dirt, in which
Fox McCloud
can plant
Bomb Spores
, in order to grow
Bomb Spore Plants
.
Appearances
The patches are usually located next to cracked walls, though some appear on weak floors and next to broken pillars. Destroying a Bomb Spore Plant that has been placed in one of these patches will not yield three spores and will not automatically grow back, unlike the Bomb Spores found growing naturally throughout Dinosaur Planet. MoonSeeds are also planted into similar patches.
PLANTING PATCH - Bomb Spores will grow here
Trivia
Curiously, Bomb Spores can't be planted into patches meant for MoonSeeds and vice versa, despite the patches being almost identical.
Ad blocker interference detected!
Wikia is a free-to-use site that makes money from advertising. We have a modified experience for viewers using ad blockers

Wikia is not accessible if you've made further modifications. Remove the custom ad blocker rule(s) and the page will load as expected.