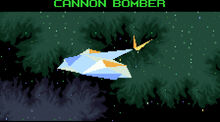 The Cannon Bomber is an enemy in Star Fox 2. They only appear on the map and would go towards Corneria or the player if they got close enough to it. They were also able to be shot down by the satellite system.
Ad blocker interference detected!
Wikia is a free-to-use site that makes money from advertising. We have a modified experience for viewers using ad blockers

Wikia is not accessible if you've made further modifications. Remove the custom ad blocker rule(s) and the page will load as expected.