Captain Shears
Talk

0
579pages on
this wiki
Captain Shears
Biographical information
Homeworld
Date of death

4 ALW

Physical description
Species

Dog (hound)

Gender

Male

Hair color

Brown

Chronological and political information
Affiliation

Cornerian Army(Formerly)
Venomian Army

Appearance(s)

  [Source]
Captain Shears is a character who appeared in the manga Farewell, Beloved Falco. He first appeared as a friendly unnamed General Pepper-like character in the unreleased game Star Fox 2, though this debut is debatable.
Biography
Edit
A captain in the Cornerian Army, Shears is the ranking military officer on the Cornerian base on the planet Titania, where the planet's ancient ruins have been studied since the end of the Lylat Wars. He agrees to help Star Fox track down Falco Lombardi in exchange for helping him deal with a small remainder of Andross' troops who are allegedly using Titania to develop new weapons.
As it turns out, the
band of individuals
supposedly belonging to the
Venomian Army
was actually
Katt Monroe
and her crew, who had stolen top-secret information about research being done on the base. Shears was actually attempting to clone Andross, and mislead Star Fox into believing that Katt's gang were leftovers from Andross' army to prevent the information from getting out. In addition, after it became apparent that Star Fox hadn't stopped them, Shears deployed the
Goras
in order to claim a hostage to force them to surrender. Ironically, the hostage turned out to be Slippy Toad (who was sent to scout ahead in case Shears had any ulterior motives), who had bad memories of the creature. After losing a duel with
Fox
, Shears nearly escapes, but is presumably crushed by the giant Andross clone he had created.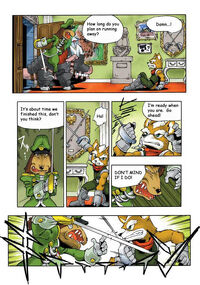 Personality
Edit
He first seemed to be what was expected of an officer, being polite. However, beneath this exterior, he was an insane psychopath, as evidenced when he reveals himself to Fox and Slippy when they see Andross's revival chamber.