Fichina Base
Talk

0
558pages on
this wiki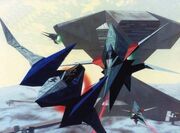 The
Fichina Base
is a
Cornerian military
complex located on Fichina. An immense hour-glass shaped building with three horizontal jettisons at the top as well as three entryways, the base is built with shields powerful enough to withstand even a
smart bomb
, and is ringed with a network of radar antennas as part of an early warning system by the military as well as monitoring local space traffic control. In addition, various pillars that were presumably minor office buildings as well as poles were in the general vicinity.
During the Lylat Wars, the base ended up occupied by the Venomian Army, who presumably had the intention of stealing top secret information. Team Star Fox arrived to liberate the Cornerian Outpost from the Venomian Forces. However, the Venomians anticipated this, and planted explosives within the base to destroy it, while evacuating in Invader I fighters. Despite Star Fox's massacre of the ships the explosives were activated and some of the minor bombs began to detonate. ROB 64 managed to uncover what the Venomians had done, but the Star Fox team was forced to delay defusing the bombs due to the Star Wolf team's arrival. If Star Wolf is taken down before the bomb explodes, Fox flies his Arwing inside the base which is ultimately spared from destruction. What became of the base after the war is unknown.
The gameplay of a time limited protection of the base was repeated in Star Fox: Assault. When The Star Fox team returned to Fichina nine years later while in pursuit of Pigma Dengar during the Aparoid Invasion, the Climate Control Center became overloaded and was threatened with a time locked explosion, similar to the Fichina Base.