General Scales
Talk

3
578pages on
this wiki
General Scales
Biographical information
Homeworld
Date of death

8 ALW?

Physical information
Tribe

SharpClaw (Supreme leader)

Physical description
Skin color

Green

Chronological and political information
Affiliation
Appearance(s)

  [Source]
[[Category:dinosaurs from
Sauria
]][[Category:Characters from Planet
Sauria
]]
"De edo sud tovouk GENERAL SCALES! (Translation: No one can defeat GENERAL SCALES!)"
—General Scales

General Scales (スケール将軍 Sukēru Shougun) is a SharpClaw and a tyrannical despot appearing as the main antagonist in the game Star Fox Adventures for the Nintendo GameCube.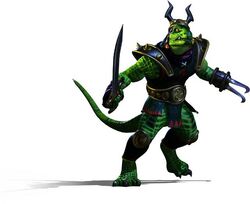 At some point, the SharpClaws led by Scales attempted to become one of the leading tribes of Dinosaur Planet. However, they were denied a spot, instead losing out to the CloudRunner and EarthWalker tribes. At some point, Scales caught the eye of Andross, who by that point was a disembodied spirit. While making himself relatively unknown to Scales, he managed to donate a bit of his power and presumably his knowledge to Scales, allowing for him and his tribe to declare war on Sauria. He eventually raided Krazoa Palace, wiping out the EarthWalkers who were guarding the palace, although not without the EarthWalkers sensing the malevolent power behind Scales' assault. Eventually, he ambushes the Cerinian survivor, Krystal, with his galleon, and after his ship was heavily damaged, he met up with her after she managed to procure a key for Krazoa palace and tried to kill her. At some point, he was met with resistance with a group composed of a EarthWalker, a HighTop, a ThornTail, and Kyte, the CloudRunner who flew Krystal to Krazoa Palace, and defeated and captured them save for the ThornTail, who was secretly a GateKeeper and who managed to escape.
At some point later, he led the SharpClaw army to war against the CloudRunner tribe and the other tribes on the planet Sauria, and was the one responsible for the breakup of the planet by removing the Spellstones that stabilized the planet. Afterwards, he hunted down the GateKeepers to gain access to the floating pieces of the planet, and he conquered each floating land mass one after another, as well as returning the SpellStones to their respective lands. Scales attempted to blackmail Garunda Te, the elder of the SnowHorn tribe, into opening the way to DarkIce Mines with the alternative of Scales committing genocide against the SnowHorns. Although Garunda Te still refused even at the cost of his tribe, his daughter, Belina Te, submitted to Scales and opened the gateway for him in order to save her race. Scales, true to his word, did not wipe out the race, but enslaved them instead and transported them to DarkIce Mines so they would be forced to work in the mines; he also had his minions seal away Garunda Te, presumably as his punishment for resisting him. He later captured the CloudRunner Fortress and used it as his base of operations, as well as exiling the CloudRunner Queen to the main planet shortly after capturing her. Although he did not capture Walled City due to the King Earthwalker sealing away his gatekeeping powers, he did nonetheless return the SpellStone to the Walled City sometime beforehand and also released the RedEye tribe from their imprisonment, and likewise forced the EarthWalkers into hiding. He also captured Dragon Rock and turned it into a prison facility for any enemies of his tribe. As a security measure against potential meddlers, he assigned members of his tribe to guard Moon Mountain Pass and the Cape Claw area due to their connection to the Force Point temples. He also arranged for Prince Tricky to be captured and held prisoner at Ice Mountain.
At some point, he became privy to Fox McCloud's arrival on the planet, and upon the CloudRunner queen's return to the CloudRunner Fortress, he captures her and interrogates her about Fox's location. He then has her beaten after she states that Fox will find him and destroy him. Shortly after Fox reveals himself, he has Fox captured, and takes away his staff. Scales eventually manages to break into the treasure room where the SpellStone was and retrieved it, although Fox managed to intercept the SpellStone. Scales fled from the scene via a teleportation device on his belt, and Fox did not encounter him again until his penultimate visit to Krazoa Palace.
Later revealed to be the holder of the last of the Krazoa Spirits, General Scales prepared himself to fight Fox McCloud in the Krazoa Palace, using some kind of sword. However, this was not to be, as Andross interrupted their fight and forced Scales to relinquish the final spirit to McCloud. (If the player does not take out the Staff, it is revealed that Scales has no fight moves or his own sounds. Instead, he just moves around and makes the same sounds as every other SharpClaw.)
As the general falls, he states "You will regret this," implying that he would return in a future title. However, since he is nowhere to be found, it is assumed that he has either died or has simply been knocked out and imprisoned by his fellow SharpClaw. Another explanation for his statement would be that he may have been warning Fox of Andross' return. However, because Scales did not know of his association with Andross, let alone could he see Andross, this is highly unlikely. He could also have been threatening Andross for forcing him to give up the Krozoa Spirit. In Star Fox Assault, Slippy says that most of the Sharpclaw tribe got wiped out, so he could be dead.
When Fox returns from fighting Andross, he finds that the SharpClaw have liberated themselves from the general and are holding up his belt in victory.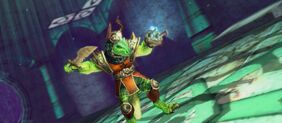 Abilities And Traits
Edit
Out of all of the Star Fox characters that reach a humanoid size, Scales is the overall largest and tallest. He is considerably strong when it comes to physical strength, demonstrating an ability to pick up a SharpClaw warrior to chest height with ease using one arm when fired on by Fox in one of the treasure rooms of the CloudRunner Fortress. Immediately afterward, he threw the warrior at Fox. Although he missed, the unfortunate SharpClaw was thrown several yards. (General Scales demonstrated his ability to lift roughly humanoid-sized beings with little difficulty on two other ocassions, specifically when lifting Krystal by the neck aboard the SharpClaw galleon and effortlessly throwing her overboard and when doing the same to the CloudRunner Queen as part of his attempted interrogation.)
Like Fox and Krystal, Scales can use his body as a container for Krazoa spirits. Strangely, it is said that Krazoa spirits can only be obtained by those who are pure of heart, implying that he somehow forced the spirit inside himself. Scales was equipped with a belt that caused him to disappear when activated; the exact method for this, either by invisibility or teleportation, is unknown. He also appears to have a strong resistance to fire, as in his first appearance, he emerged unscathed and apparently unconcerned from a blazing compartment on the SharpClaw Galleon. Although it hasn't actually been seen in the game, it could be implied that Scales has the lizard-like ability to climb walls, as shown when Fox was getting ready to have a final battle with him when he almost landed on Fox from the ceiling (Not seen at first possibly due to his belt's camouflage). His weaponry includes a large, double-bladed hook attached to his left arm and a large, golden sword in his right hand. Scales wears antlers on his helmet (most likely to help increase intimidation).
Scales is seen as a power-hungry tyrant, who desired to rule all of Sauria and possibly even the Lylat System (heard from him in the deleted audio from Adventures). Scales was shown to be very fierce, ruthless, sadistic, evil, and cruel. He did not doubt himself, and was always confident in his plans. He also appeared to enjoy mocking his victims. He was also shown to have an ego, believing that only he is worthy to rule Sauria and showing an arrogant sense of entitlement. Scales was an individual who was mainly concerned with gaining power and would eliminate anyone he saw as competition. He was a very cruel leader, even to his own troops, as seen when he hit two of them furiously and almost destroyed one of his security robots because the ClouldRunner Queen wouldn't tell him where Fox was, and also used one of his soldiers as a living shield when Fox was blasting at him, and then threw the SharpClaw at him. Right before Scales released his Krazoa spirit, his fellow SharpClaw blocked themselves with their arms in fear, showing that Scales most likely doesn't tolerate failure from his troops or simply punishes them when angered. When confronted by Krystal for the first time, he laughs and tells her that he is not evil, and claims that he is only doing this for the planet's own good, although he quickly abandons this theory and throws her off his ship, laughing maniacally afterwards. He also appears to be very arrogant, claiming that "No one can defeat General Scales!". Through his brutal regime, he seems to mostly enslave his prisoners rather then kill them, since he can force them to work on different parts of the planet. Scales also believed that fear was beneficial to the denizens of Sauria.
It is also implied that most of his abilities and weaponry stemmed from either his unknowing servitude to Andross or from his gaining a Krazoa Spirit, as several dinosaurs mention that he and the SharpClaw race weren't powerful beforehand.
Scales is voiced by John Silke.

His voice appeared to be a mix of an Irish/Scottish and English accent.
The relationship of General Scales and Andross is similar to two other Nintendo characters, Zant and Ganondorf, from The Legend of Zelda: Twilight Princess, in that both have two tyrannical minions given power by vastly more powerful beings who are both arch enemies of the main protagonists. On a related note, both Ganondorf and Andross had completely revived themselves shortly after Zant and General Scales had met their downfall, and both Zant and Scales started serving Ganondorf and Andross when they (or in Scale's case, his tribe) were denied a position of power.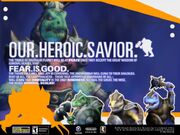 During Adventure's viral marketing campaign, a wallpaper was released featuring Scales, where it claimed him as a benevolent leader in a somewhat sarcastic manner.
General Scales and Andross both seemed to have the exact same kind of eyes. This is probably deliberate to hint at Scales and Andross's connection. However, it should be noted that Scales' eyes differ, as he is seen with normal eyes in his official renders, but is shown differently during the course of the game, as he possesses a Krazoa Spirit.
Scales is one of the four major villains in the series, along with the Aparoid Queen, Andross, and Emperor Anglar, and one of only two to be mentioned in the Star Fox trophy section of Super Smash Brothers Brawl (only mentioned in Tricky's trophy information), the other being Andross. He is also the only one not to be fought as the final boss or in the whole game itself.
The story behind General Scales' double-bladed hook replacing his left hand is a mystery. Little to nothing is known about how or when he got it. It is possible that it was placed into his design (and kept from his original design in the original game) to make him seem more intimidating.
Despite being a central character and the primary antagonist, Scales only gets about fifteen minutes on-screen, making just five appearances in total with eight lines in Dino Talk, spanning 70 words and 12 lines in English, spanning 94 words. He has a combined total of 164 words and 220 lines of dialogue

.
It is currently unknown if General Scales is dead, as he was not seen in the final cutscene of Star Fox Adventures.
Despite being a part of Andross' plan, General Scales seemed unaware of Andross' presence, as he questioned his identity and authority when Andross ordered him to simply give Fox the final Krazoa Spirit.
It is unknown how General Scales managed to get a Krazoa Spirit, since it is said only a being with a pure heart can pass the test to be possessed by one. Of course, he could have simply been pure evil. There is also the possibility that this lone Spirit did not have a test to keep it safe from Scales' grasp.
The shadow of Scales appears on the box artwork of Star Fox Adventures, as if the artwork is taken from his own point of view. This is very likely, as he towers over every main character in that picture.
Although his final fight never occurred, if the player has a Staff attack set to the Y button during the Test of Scales, they all will prove useless against him. Not even the Super Ground Quake would affect Scales; therefore, this would have made him a much more formidable opponent than even a RedEye.
Behind the scenes
Edit
It was originally intended to have General Scales actually be fought against, and that Falco would have aided Fox in defeating Scales. However, for reasons unknown, it was cut.
In the original Dinosaur Planet, General Scales was to have been the one to have fallen overboard from the Galleon, after a lightning strike electrocuted him when he grabbed a CloudRunner's cage.
Contrary to popular belief, General Scales was never intended to be the final boss in any version of the game. During the N64 version's development, Drakor, of all characters, was intended to have a much bigger role and would have been the descendant of a race that violently opposed what the Krazoa represented. It is speculated from the revealed storyline that the true final boss may have still been a variant of the Krazoa God.