Ground Quake
Talk

0
580pages on
this wiki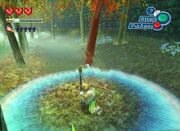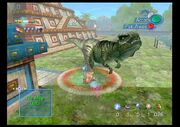 Ground Quake is a staff move that makes a huge shockwave to defeat multiple enemies at once. It is used against Red Eyes and Kalda Chom that posesses a Moonseed. It is also useful for taking down groups of SharpClaws. This attack is handy for the disposal of the EggSnatchers as they attempt to make off with the unhatched ThornTail Eggs.
A more powerful upgrade called the Super Ground Quake can be learned in Walled City, which is required to take down the RedEye tribe (the first Ground Quake is not strong enough to knock RedEyes down). And either a second blow from the same attack or thowing a Fuel Barrel with vanquish the dinosaurs, if the second blow is not done quickly, the toppled RedEyes will get back on their feet.
The first Ground Quake will give off a deep blue shock, taking little time to charge, while the Super Ground Quake will unleash an orange tremor and take a little longer to release and uses more of the Staffs magic meter.
General Pepper's Report
Edit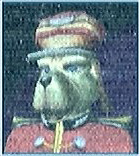 These are the detailed descriptions that
General Pepper
gives to Fox for selection of these upgrades when contacting him:
Ground Quake - "Unleash the energy power of the Staff to break switches and knock over bad guys!"
Super Ground Quake - "This is an upgrade to the normal ground quake move. It allows you to knock down bigger bad guys and defeat them quicker."
Strangely, if the player has the Super Ground Quake set to the Y button and attempts to use this attack on General Scales, during the Test of Scales, it will not affect him, despite him being much smaller than a RedEye.
Upon collection of the second version, the first will be erased from the C-Stick Inventory, yet it will remain on General Pepper's report as proof of collection.