Katt Monroe
Talk

10
580pages on
this wiki
Redirected from Katt
Katt Monroe
Biographical information
Homeworld

[[Unknown. Possibly Corneria]]

Date of birth

c. 19-17 BLW (age 28-30)

Physical description
Species

Cat

Gender

Female

Hair color

Dark gray (formerly pink)

Eye color

Blue

Chronological and political information
Affiliation
Appearance(s)

  [Source]
[[Category:characters from Planet Unknown. Possibly
Corneria
]]
"Starting without me? Boys, I'm crushed!"
—Katt Monroe
Katt Monroe (キャット・モンロー, Kyatto Monrō) is a female feline from the Star Fox series. Like Falco Lombardi, she seems cocky, but in a feminine way, such as joking that she would never fly with him again. Katt has a past history as Falco's colleague, but it has never been revealed what they used to do, save that they were both in the Hot Rodders and they have never been romantically involved.
"Make way for Katt!"
—Katt in battle

Before the events of the game, Katt was ambushed by a Venomian patrol squadron and her ship was crippled as a result. Because of this, she had a strong dedication to stopping Andross. She eventually managed to reverse-engineer an Invader III prototype that she had stolen from the Venomian Army, heavily modified into its present state, and called it the Cat's Paw.
Katt Monroe helped the Star Fox team in raiding Zoness, destroying the base on Macbeth, and defending the Great Fox. When she was introduced, she knew Falco already and seemed to have had a close relationship with him. Katt also assisted on either Macbeth or Sector Z, depending on Star Fox's choice of destination after Zoness.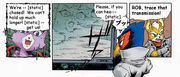 Katt Monroe sent an SOS signal to Falco four years after the war with Andross. Falco immediately reacted to the SOS, and left for Katt's aid without the team's consent. He managed to save Katt and the rest of her gang, the Hot-Rodders, from a Goras (called Golas) by forcing the Goras to retreat from the battle. 
Afterward, Katt informed Falco that Shears was after them, and he was trying to bring about an unnamed disaster. The pair catch up on some things, and Katt revealed that she had found someone that she liked other than Falco. Meanwhile, Shears tricked the Star Fox Team into thinking that the Hot-Rodders' ship was a Androssian rebel's ship. The Star Fox team located it, and Falco forced Fox into a dogfight.
After the results of their battle, Katt contacted Fox and yelled at him for shooting down Falco. Fox was surprised that Katt was commanding "Andross's ship", until she revealed that they weren't working for Andross at all. Fox then learns that the Hot-Rodders had aquired leaked data about the project, and they analyze the contents of the project's files. ROB 64 then completed the analysis and revealed that the basis of the project was NOT about creating weapons based off of Andross's research, but in fact reviving Andross himself. ROB also informed them that Slippy had been captured by the research base. They then conducted a full frontal assault on the base-the Hot-Rodders would make a distraction so that Fox could get into the base and rescue Slippy, and if possible, halt Andross's revival.
While causing the distraction, the Hot-Rodders were attacked by the Goras. Katt contemplated trying to take it out by herself after reflecting on Falco's last words to her after quitting the Hot-Rodders. However, Falco, in his newly repaired Arwing, managed to fly in and save them again. This time, he put the Goras out of comission for good. Afterwards, Falco decided to go it alone for a while, and told Fox to tell Katt to leave the Hot-Rodders. Katt followed up his message by saying: "Falco...thank you."
"I can't just sit and watch him from the sidelines!"
—Katt expressing her desire to assist Falco
Katt made a new apperance in the Star Fox series during the Anglar threat, piloting the customised Cat's Paw II.
She made her appearance in missions with Falco in the Asteroid Belt and Sector X. The two had an argument during which Falco insulted her, and Katt vowed to never help him again. Later in the storyline, however, Katt explained that she wanted to help rather than spectate. Her pilot gallery profile disclosed that she secretly wished to join Star Fox to be near Falco.
In one ending, she persuades Falco to create a new team, Star Falco, with her and Dash Bowman as teammates.
In another story, Katt teams up with Krystal, Lucy Hare, Amanda and ROB 64 to take back Corneria from the Anglar Invasion, while the second Star Fox Team reformed once more to go on two more missions. The four ladies celebrate their victory with a prepared welcome home party for the success of both groups.
Portrayals
In Star Fox 64, she is voiced by Lyssa Browne in the English version and by Kyoko Tonguu in the Japanese version; both actresses did Slippy Toad's voice in this game as well.
Gallery
Trivia
Katt's first name is the respective word for "Cat" in both Swedish and Norwegian. Additionally, Katti (Finnish) and Kat (Dutch, Danish) are similar.
Katt is only playable in Star Fox Command, along with several other previously unplayable characters from Star Fox 64.
Katt is the only female pilot in Star Fox Command who neither is nor wears pink, despite the fact that she was of a pink coloration in her previous appearances. This change in appearance is possibly due to the design for Krystal, Lucy Hare and Amanda featuring a mixture of pink, so they decided to redesign the original all pink character to make a contast between the female cast. However it must be stressed that this is only a theory.
Since many elements from Star Fox 2 were carried over to Star Fox 64, it is largely speculated that Katt was created as an equivalent or a replacement for Miyu.
Katt seemed to be somewhat of a flirt in Star Fox 64; when the player saves her from enemy fire, Katt says "I could kiss you for that!" in a flirtatous manner.