Krazoa God
Talk

0
578pages on
this wiki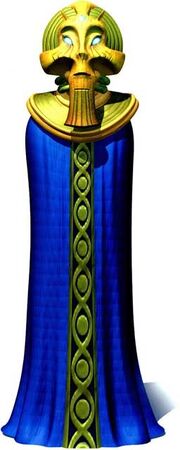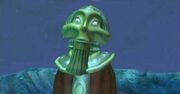 The Krazoa God is the combination of the six Krazoa Spirits serving as Andross' new body near the end of Star Fox Adventures. Andross controlled the Krazoa Spirits, channeling through the psychic Krystal to be reborn through a Krazoa statue's head. He uses the mask as a shield that protects him from outside fire until the its eyes and forehead piece are blown out. After Andross and the statue are blown up thanks to Falco's Smart Bombs, the six Krazoa Spirits are freed from his grasp and immediately proceed to reform the planet.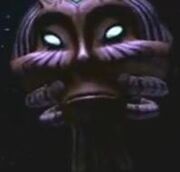 ---
---
The Lord of Games, a character appearing in the post-Nintendo Rare game Banjo-Kazooie: Nuts and Bolts looks very similar to the Krazoa. Because both games were made by Rareware, this could possibly be a tribute. They are both powerful characters on top of bodiless robes.
The large Krazoa statue used by Andross originally appeared on the Krazoa Palace roof directly in front of Krystal's prison. If Fox moves behind this statue before releasing the final Krazoa Spirit and attempts to look into the space where Andross would appear later in the game, he will find an empty dark hole (as goes with the fact that Andross has not yet been restored).
Although the Krazoa God turned out to be a moniker of the Spirit-infused Andross, it is unknown is there was an actual Krazoa God in the past. It is also unknown if Fox and Tricky's encounter with a projected Krazoa in Moon Mountain Pass was also an Andross impersonation; although it had a different voice, it is implied by the Nintendo Power guide that this is the case.