Nintendo 64
Talk

0
578pages on
this wiki
Redirected from N64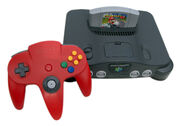 The Nintendo 64, often abbreviated as N64, is a console developed in 1996 following the SNES. Star Fox 64 is the only Star Fox game for this console. Fox McCloud also appears in Super Smash Bros. as a playable character representing the Star Fox series.
General Info
Edit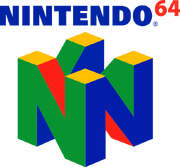 The Nintendo 64 (ニンテンドウ64, Nintendō Roku Jū Yon, NINTENDO64) is Nintendo's third home video game console for the international market. Named for its MIPS 64-bit processor, it was released on June 23, 1996 in Japan, September 29, 1996 in North America, March 1, 1997 in Europe and Australia, September 1, 1997 in France and 
December 10, 1997 in Brazil. It is notable for being Nintendo's last home console to use cartridges to store games (with Nintendo switching to a proprietary optical format for the GameCube, then to standard DVD-sized media for Wii), and for being the first modern home console to come with a controller featuring an analog stick. 
The N64 was released with two launch games, Super Mario 64 and Pilotwings 64, plus an extra one in Japan, Saikyō Habu Shōgi. The N64's suggested retail price was US$199 at its launch and it was later marketed with the slogan: "Get N, or get Out!" The N64 sold 32.93 million units worldwide. It also was home to the currently most popular game in the Star Fox series, Star Fox 64.
The N64 owes its existence to Silicon Graphics, and MIPS Technologies, who were responsible for the R4300i microprocessor and the 3D graphics hardware used in the N64
The new controller included with Nintendo 64 consisted of 1 analog stick, 2 shoulder buttons, 1 digital cross pad, 6 face buttons, a 'start' button, and one digital trigger (Z).
ROB 64's "surname" is a reference to this system, as Star Fox 64 was his debut game. In Star Fox Adventures, ROB bears the letters N.U.S on his chest, which is an abbreviation of Nintendo Ultra 64, the alternative name of the Nintendo 64. These letters are gone by the time he appeared in StarFox: Assault, yet on the character rollcall before the staff credits, his japanese name appears next to his western one.