Oikonny Andross
Talk

0
578pages on
this wiki
Oikonny Andross

Production information
Manufacturer
Technical specifications
Armament

Robotic Fists

Crew

At least 1

Usage
Other systems
Role(s)

Transformed Flagship

Affiliation
Appearances
Appearance(s)

  [Source]
"What's THIS? An Andross Wanna-be?"
The Oikonny Andross, or as Falco Lombardi puts it, the Andross Wanna-be is the first boss of Star Fox: Assault. After Team Star Fox chase Oikonny's Flagship to Fortuna, they catch up with it down a canyon before it starts to transform into a combat robotic titan, with the likeness of Andrew Oikonny. Fox McCloud and the rest of Star Fox do not take this surprising retalliation as a serious threat and proceed to attack.
Characteristics Edit
This likeness of
Andross
is only different in being more mechanical looking with yellow eyes and metallic gray hands. The weak spots are on the palms of the hands. Attacks include: a swiping move, a crushing move, a punch, or a lunge attack. However, it is unable to replicate Andross's signiture telekinetic inhale/exhale attacks. Although its weak points were his palms, the immediate cutscene implied that it only did cosmetic damage to the hands, as he was seen using them as if they weren't damaged. It is ultimately destroyed by an
Aparoid Moth
.
Transformation methodEdit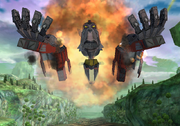 The Oikonny Andross is activated as a last resort. The transformation process has the flagship's engines moving back, and then transforming into hands, and then the back of the vessel moves upward to construct a face in Oikonny's likeness. Finally, what remains of the vessel's original form breaks off and plummets to the ground. The fact that the Oikonny Andross's mouth moves when Oikonny speaks suggests that he pilots the weapon using brainwaves.
A possible reason the Aparoid Moth destroyed Oikonnys ship first was that another Aparoid (or however unlikely, the same one) had encountered a high ranking Venomian official who knew Andross and how powerful he was. So it mistook Oikonny's ship for Andross' (and a threat) which he was neither.
Depending on how much damage the player takes (or doesn't take), the team's response to Fox taking out one of the hands (as well as which team member responds) will be different. If the player doesn't take damage, Krystal wil say "Fantastic!" to Fox. If the player does take damage, Slippy will shout "Take that!" to Oikonny.