| | |
| --- | --- |
| | We need your help, users! This article/section is a stub, meaning there is little information to fill its contents and needs more information to expand it upon. If you know any information taken from gameplay or strategy guides, you can help Arwingpedia's article by expanding it. Referenced sources are appreciated. Hurry users! |
"Pay 60 Scarabs to enter Cape Claw!"
—Scarab Toll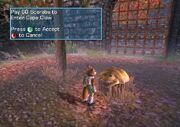 The Scarab Toll is a namesake gate Toll which guards the maze entrance into Cape Claw from LightFoot Village. The Toll acts in a similar manner to the BribeClaw without any obvious hostility.
History
Fox encounters just one of these Tolls in his expedition. The required price of Scarabs is 60 which makes it impossible for Fox to enter Cape Claw before gaining his medium Scarab Bag from the Warp Stone. Paying this fee gets Fox and Tricky unlimited access for the rest of their travels around Sauria.
Description
The Scarab Toll is a large, Scarab shaped casket, nearly as tall as Fox. The Scarabs are paid into the mouth of the Toll, follow by a belch which suggest this talking Toll is a living being or manipulated.
SCARAB TOLL- Pay Scarabs to open gate
Trivia
There is only one Scarab Toll in the entire game.