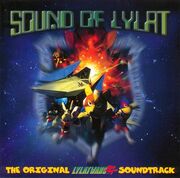 Sound of Lylat
is an original promotional soundtrack CD of
Lylat Wars (Star Fox 64's PAL release)
released by Nintendo of Europe in 1997 as part of the "Nintendo Soundtrack Series".
While not an entirely complete collection, the CD features the majority of background music from the N64 game, mainly composed by Hajime Wakai, with some contributions from Kōji Kondō. The tracks are presented in a secondary loop. The sleeve advertises early development footage from upcoming games: Yoshi's Story, The Legend of Zelda 64 (Ocarina of Time) and F-Zero 64 (X).
Track listings
CD content
References
(P) 1997 by Nintendo of Europe GmbH (C) 1997 Nintendo Co., Ltd.
Ad blocker interference detected!
Wikia is a free-to-use site that makes money from advertising. We have a modified experience for viewers using ad blockers

Wikia is not accessible if you've made further modifications. Remove the custom ad blocker rule(s) and the page will load as expected.