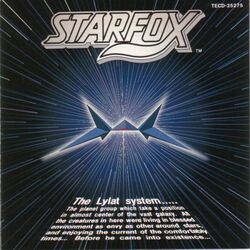 The Star Fox Original Soundtrack was a CD released in 1994, a year after Star Fox. It contained tracks from each level in the game.
All music was composed by Hajime Hirasawa (with the exception of the themes used for the stage and boss BGM of Out of this Dimension!) and features three arranged tracks by Norimasa "Kisho" Yamanaka at the start of the album. The last three tracks are recordings of live gameplay of the game's final stage, boss and ending on Level 3 (the game's highest difficulty).
Track Listing
Arrange Version - Corneria
Arrange Version - Main Theme
Arrange Version - Black Hole
Title Demonstration BGM
Title Screen
Controls BGM
Course Map Select BGM 〈Main Theme〉
Emergency Call
BGM (Corneria)
BGM (Meteor)
BGM (Titania)
BGM (Fortuna)
BGM (Macbeth)
BGM (Asteroid, Venom-Orbital)
BGM (Space Armada)
BGM (Venom-Base for Level 2)
BGM (Sector X, Sector Z)
BGM (Sector Y)
BGM (Venom-Base for Level 1, 3)
Boss (Corneria, Planet battle)
Boss (Fortuna)
Boss (Macbeth)
Boss (Titania)
Boss (Asteroid Space Battle)
Boss (Space Armada, Boss of Core type)
Boss (Venom-Base)
Boss (Last Boss Andruf)
Player down (Orchestra version)
Player down (Band version)
Continue
Course clear (Orchestra version)
Course clear (Band version)
Last Boss Clear
Game Clear Demonstration BGM
Ending (Boss)
Main Theme
Out of this dimension BGM
Out of this dimension for slotmachine
Black Hole (BGM)
Black Hole 〈Map select〉
Training Mode BGM
Venom-Base - Play Version
Andruf - Play Version
Ending - Play Version
Notes
The words "Titania," "Fortuna," and "Andruf" are misspelled in most if not all cases on the written tracklist as "Taitania," "Fortunaf," and "Andolf," respectively.
Track 8 is not music per se, but rather the scene before the first level as heard in the game, including all voices and sound effects (similar to the "Play Version" tracks at the end of the album, sans BGM)
Ad blocker interference detected!
Wikia is a free-to-use site that makes money from advertising. We have a modified experience for viewers using ad blockers

Wikia is not accessible if you've made further modifications. Remove the custom ad blocker rule(s) and the page will load as expected.