Theme Music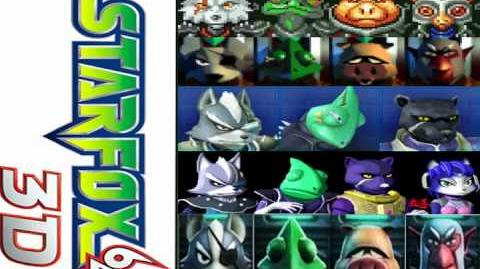 The Star Wolf leitmotif has made an appearance in every one of the team's appearances (except for
Star Fox 2
, which uses a different theme altogether).
The Star Wolf theme first appears in Star Fox 64, followed by an orchestra remake for Star Fox: Assault and then returning for Star Fox 64 3D.
The theme returns as the Star Wolf team boss battle and Wolf's personal theme during his gameplay in Star Fox Command.
The theme also appears in Super Smash Bros. Brawl in a new version and the Star Fox: Assault version is included as an unlockable soundtrack.
The theme returns in Super Smash Bros. for Nintendo 3DS and Wii U, included in a version mixed with the Sector Z theme. Ironically, Sector Z and Fichina share themes as well as Star Wolf appearing mainly at Fichina in Star Fox 64, and the Wolfen make cameos in the original Super Smash Bros.' Sector Z stage.
References
NINTENDO POWER Star Fox 64: Official Nintendo Player's Guide. Redmond, WA, Nintendo of America. 1997.
Ad blocker interference detected!
Wikia is a free-to-use site that makes money from advertising. We have a modified experience for viewers using ad blockers

Wikia is not accessible if you've made further modifications. Remove the custom ad blocker rule(s) and the page will load as expected.