Star Wolf
Talk

0
578pages on
this wiki

The Star Wolf team is a group of mercenaries for hire, led by Wolf O'Donnell. They were originally associated with the evil Andross, and after his demise cemented themselves as rivals of Star Fox. They also dabbled in more illegal activities such as larceny and smuggling.
The original team consisted of Wolf O'Donnell, Leon Powalski, Andrew Oikonny, and Pigma Dengar. However in Star Fox: Assault, Andrew left Star Wolf to avenge Andross, and Pigma was expelled because of his greediness. Wolf later replaced Andrew and Pigma with Panther Caroso. In Star Fox Command, Krystal joins Star Wolf but can either stay with Star Wolf or join Fox McCloud depending on the player's decisions. Also, they have massive bounties placed on their heads because of their work. Their main ship is the Wolfen.
Current Members
Edit
Wolf O'Donnell
Edit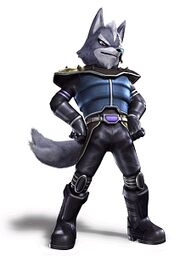 Wolf O'Donnell, sometimes called Lord O'Donnell, is the leader of the Star Wolf team and rival of Fox McCloud. Wolf's team was initially hired by Andross to take down the Star Fox team. The Star Wolf team ultimately fails their mission, causing Wolf to seek revenge for his own personal reasons. Years later, in Star Fox: Assault, Wolf planned on taking down the Star Fox team once more, but the later invasion of the Aparoids caused him to come to Fox's rescue. Even so, he claims the only reason he did was so that he could kill Fox off himself later. He helped Fox during some scenarios of Star Fox Command, where he stated that he feels a grudging respect towards Fox.
Leon Powalski
Edit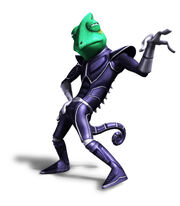 Leon Powalski is the only original member other than Wolf himself to have stayed with Star Wolf since Star Fox 64. Leon is a dangerous enemy, whose secretive nature is emulated in by having psychopathic traits - very cold, calculating, and cunning. He has had some past rivalry with Star Fox member Falco Lombardi, whom he mainly concentrates his fire on in Star Fox 64 and bickers with in Star Fox: Assault. In Star Fox 64, although he speaks with an eloquent and classy manner, he obsesses with the idea of mercilessly torturing his prey and inflicting pain as his specialty.
Panther Caroso
Edit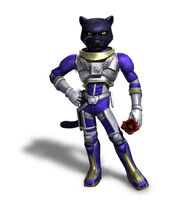 Panther Caroso made his first appearance as the newest member of Star Wolf in Star Fox: Assault. His signature symbol is a red rose and is quite conceited, often embarrassing those around him. He is also quite a flirt, considering himself a ladies' man. In Star Fox: Assault he attempts to flirt with Krystal several times, but she either ignores or rejects him depending on the circumstances. Panther appears again in Star Fox Command, where he attempted to begin a relationship with Krystal after she joins the Star Wolf team following her break-up with Fox.
In the game, he is known as Panther Caruso (not Caroso) and the bounty put on his head by Corneria is double that of Leon's, showing his undeniable Arwing/Wolfen skill.
Former Members
Edit
Andrew Oikonny
Edit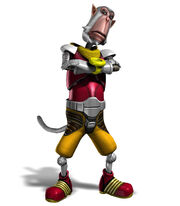 Andrew Oikonny is the nephew of the evil Andross. He is an inexperienced pilot who only flies to try and follow in Andross's footsteps. Sometime after Andross was killed, Oikonny left Star Wolf, and planned to avenge his uncle's death. In Star Fox: Assault, Oikonny gathered Andross's remaining troops and formed a rebellion against the Cornerian Army. The Star Fox team tracked him down to the planet Fortuna, where his ship turned into a large likeness of himself, strongly resembling Andross' form. During the battle, Oikonny is unexpectedly shot down by an Aparoid Moth. He returns once again in Star Fox Command, where he joins the Anglars and pilots the Death Crab, confronting Star Fox in Fichina City.
Pigma Dengar
Edit
Pigma Dengar is one of the original members of the Star Fox team, and after he betrayed James McCloud and Peppy Hare to Andross, he joined Star Wolf. He is an exceptionally greedy pirate who does not care who he hurts so long as he ends up with a large paycheck in the end, and in fact also takes a huge amount of joy in hurting others, evidenced by his statement of "Daddy screamed REAL good before he died!" to Fox during the Bolse mission. When fighting Star Fox in Star Fox 64, Pigma focuses on Peppy because they were once teammates. Wolf later expels Pigma from Star Wolf due to his incredible greed and distrustful nature (he also mentions that "If he'd shown his filthy hide here [Sargasso Space Zone] my [Wolf's] men would have driven him out", which implies that he also gave his men the order to shoot on sight if Pigma ended up coming near their territory.)
Misc. Members
Edit
Technology and equipment
Edit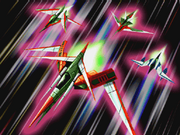 The technology and equipment used by members of Star Wolf is very similar to that of the Star Fox team, although it is sometimes depicted as more advanced.
The team primarily uses the Wolfen as means of transportation and starfighting. Its statistics rival that of the Arwing's. In all games, the Star Wolf team is fought in their Wolfens, and in Command, the Wolfens used are customized personal craft.
In Super Smash Bros. Brawl, Wolf uses a Landmaster of his own, and it is given the title "Wolfen Landmaster" in-game. The trophy for the vehicle indicates that Wolf stole schematics for the Star Fox team's Landmaster and used them to make his own, more powerful version. With upgrades comes greater use of fuel, so Wolf's Landmaster only lasts a few seconds on stage. It is unknown whether or not these will be used in a future Star Fox game.
Photo Gallery
Edit
Theme Music
Edit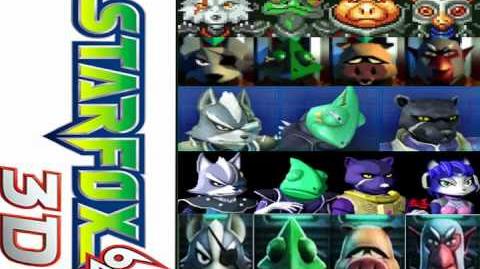 The Star Wolf leitmotif has made an apperance in every one of the team's apperances, except for the unreleased Star Fox 2.
The Star Wolf theme first appears in Star Fox 64, followed by and orchestra remake for Star Fox: Assault and then returning for Star Fox 64 3D.
The theme returns as Wolf's personal theme during his gameplay in Star Fox Command.
The theme also appears in Super Smash Bros. Brawl in a new version and the Star Fox: Assault version is included as an unlockable soundtrack.