The Battle of the Orbitial Gate
Talk

0
580pages on
this wiki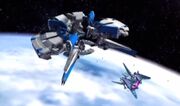 The
Battle of the Orbitial Gate
is one of the last battles fought during
Aparoid Invasion
, following the rescue of
Corneria
from the
Aparoids
by the
Star Fox
team. Before Star Fox could head to the
Aparoid Homeworld
,
Slippy Toad
's father,
Beltino Toad
, is in the process of making a
Self-Destruct program
, one that will destroy the
Aparoid Queen
and all her brethren with her.
Unfortuately, Aparoid forces were alerted to this plan and assaulted the gate in order to prevent this threat from completion. The Star Fox team and all remaining Cornerian Army ships defended the gate to buy Beltino and his scientists more time to complete the program.
The Aparoids deployed Missiles in order to take down the Beltino Orbital Gate before Star Fox could use it to travel to the Aparoid Homeworld. But the Star Fox Team managed to save the Gate by destroying the Missiles, with the help from Star Wolf Team. With the Aparoids in retreat, the Star Fox team and Cornerian fleets were able to travel to the Aparoid Homeworld, lead by the Great Fox.
This battle is very similar to the Battle of Sector Z during the Lylat Wars, for the player must overcome overwhelming odds, followed by misslies while defending the Great Fox/Orbital Gate.