The Forever Train
Talk

0
579pages on
this wiki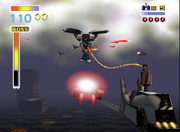 The Forever Train
was a Venomian energy supply train taking refuge on
Macbeth
during the
Lylat Wars
. It is piloted by
an unamed engineer
. Its purpose was to deliver supplies and weapons to a supplies depot to deliver and/or launch to the
Venomian Forces
. It also contained a prototype mech called
Mechbeth
, to which it was directly tied to due to its power source still being developed during the war. It also had a large cannon with which to shoot flame bombs. It was ultimately destroyed when
Fox McCloud
, who plowed through Macbeth's numerous ambush guns and ships, managed to activate eight switches to gain access to a switcher that changed the tracks, forcing it to crash into the fuel bunker, taking the entire factory with it in the initial explosion.
The forever train, as the name suggested, was a very long train. Sometimes, it even had to detach several of its cars.
The known cars of the train are a Garuda transport car with two crates, four cannon cars, four ore transport cars, two propane gas cars, a crate car, a liquid fuel carrier, the Mechbeth car, and the locomotive itself.
The name of the train was not mentioned in the level, but the opening card of the mission has the subtitle of "The Forever Train."