Titania
Talk

1
578pages on
this wiki
Titania

Arid Desert Planet
Class:
D
Radius:
4,397 skm
Albedo:
0.15
Gravity:
0.48
Escape Velocity:
6.79 skm/s
Equilibrium Temperature:
226 Kelvin (-47.15 Celsius)
Atmosphere:
30% N2 + 23% O2 + 23% CO2
Hydrographics:
0%
Biomass:
355 Quads

Titania is a vast, barren desert world located in the Lylat System. The planet's atmosphere is composed of black clouds and red dust blown by the ion storms that buffet its surface. Various cactus plants are Titania's only visible sign of life.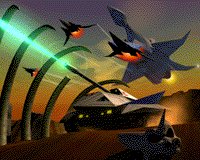 Titania is known as the "Red Planet" due to massive ion storms that stir up red dust from the planet's surface and deposit it into the stratosphere. Archaeologists have discovered a large number of ancient ruins on Titania, pointing to an ancient civilization that once inhabited the planet. The only survivor of this lost civilization is a creature code-named "Goras", believed to be an advanced planetary defense system. Due to Titania's hostile nature, travel to the planet is usually restricted to researchers alone.
Long ago, Titania was a prosperous, fertile world home to a progressive agrarian society. Using advanced construction techniques, the Titanians erected ornate cities of stone located between small farming communities. As is evidenced in their elaborate temples, the Titanians are thought to have worshiped the Goras creature as a sort of harvest god and as an advanced planetary defense systerm. In time, an asteroid, possibly from the Meteo Asteroid Belt, collided with Titania, instantly turning what was once a lush world into its current desolate state.
Lylat Wars
Edit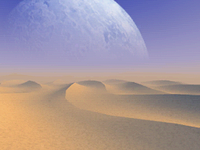 During the
Lylat Wars
, scout forces sent by
Andross
 took control of the desert planet. The
Star Fox Team
battled through
Venomian
forces in search of
Slippy Toad
, who had crash-landed on Titania and was captured by the Goras. Ultimately,
Fox McCloud
rescued Slippy, destroying the Goras in the process. 

Titania Incident
Edit
Four years after the Lylat Wars, research bases were established on Titania, including one commanded by Captain Shears. Katt Monroe, as well as the other members of the Hot Rodders gang, battled against another Goras that was secretly sent by Captain Shears himself. Shears and his subordinates were later revealed to be remnants of Andross' army, and they had experimented with various regeneration technologies in hopes of reviving Andross. The regeneration process finished prematurely, and the result was a mindless clone of Andross which was promptly defeated by Fox McCloud.
Aparoid Invasion
Edit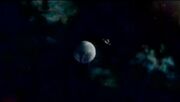 Titania appears in Star Fox: Assault as an unlockable stage. The stage itself is actually a base located somewhere in the desert. Players can snipe from atop rocks or fly the Arwing for dogfights, although air space is limited. There are caves that hold power-ups like barriers and other, more powerful weapons. Players can set up Sensor Bombs in these caves and hide for an ambush. Titania appears in the background of Fortuna in the story mode during the conflict between the Cornerian Army and Oikonny's Rebel Army.
This multiplayer stage actually has one small pool of water. This means that microscopic organisms may actually still exist on Titania.
It is interesting to note that with the booster pack, a player can jump up to the top of the spire in the center of the base and Arwings or Wolfens won't be able to reach him or her.
In Star FoxEdit
In Star Fox and the Nintendo Power comic, Titania is a frozen planet, much like Fichina in the Star Fox 64 reboot. In the game, the planet's frozen climate can be changed instantly to a warmer climate by destroying a planetary weather device. When Andross attacked, he placed a robot named Professor Hangar in charge and used the weather device. When Fox arrived, he fixed the weather and destroyed Hangar, freeing Titania from Andross.
In the original Game Manual, Titania was listed as the Second planet in the Lylat system.
In Star Fox 2Edit

In Star Fox 2, Titania served as one of Andross' many bases. Note that in this game, Titania has a moon. This may still be canonical, as both the manga Farewell, Beloved Falco and the Vs. Mode stage in Assault show a moon in Titania's sky.

Other Info
Edit
Titania appears as the third and most difficult stage in the Star Fox boss microgame during WarioWare: Smooth Moves. It's appearence is that of it's original SNES snowy design to keep in tone with the spirit of the microgame's look.
References
Edit
NINTENDO POWER Star Fox 64: Official Nintendo Player's Guide. Redmond, WA, Nintendo of America. 1997.
"Farewell, Beloved Falco". Published by Nintendo in 2002.