A comprehensive list of games and spin-off media that feature Tricky.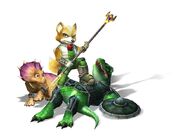 As Fox's sidekick, Tricky is usually at beside him throughout his expedition to save Dinosaur Planet after rescuing him on Ice Mountain. Tricky will respond to his every Sidekick Command after learning them at the right moment and use them well for every situation (in exchange for a fair amount of GrubTubs). It is good to note that Tricky will not take Commands from Fox if he is hungry, i.e. his Tricky Energy meter is empty. Fox will have to feed him Blue GrubTub Fungi before he agrees to cooperate again.
These Commands can be used to do many different tasks, such as attacking enemies, digging in round dirt patches, and turning on campfires. Tricky will usually tell Fox when to use them by a question mark atop his head. Only Flame and Find commands deplete the Tricky Energy meter. Like most other things in the C-Stick Inventory, all five commands can be assigned to the Y Button. The last command is optional but must be aquired by buying back [[Tricky's Ball] from the ThornTail store. The Play Command will cause Fox to play a game of fetch with Tricky (overtime this does nothing but change his colour scheme). Playing a lot with Tricky's Ball would cause him to change color in a cycle, from purple and yellow to pink and purple, and then to aqua-blue and lemon-green, and finally purple and blue.
Though Tricky will refuse to go to CloudRunner Fortress with Fox (as EarthWalkers and CloudRunners dislike each other) he will still climb into the Arwing's cargo hold and remain inside until they return to Thorntail Hollow. If the player attempts to hurt Tricky by hitting with the staff several times, he will unleash flame against Fox (after learning flame). Also, he'll spurt blood if whacked a few times, giving the reason for the animated blood listing for the T ESRB rating. When it is nighttime and the player does nothing for an extended period of time, Tricky will fall asleep until the player decides to call him or waits until the sun comes up.
Manual description
"It's hard to believe that the mischievous Prince Tricky will one day rule the EarthWalker Tribe. And with his father imprisoned, the future of the world looks bleak. Could an unlikely partnership be the only hope of Dinosaur Planet?"
—Instruction Booklet
PRINCE TRICKY - Use his Sidekick Commands to help you
After completing Mission 5, Star Fox are on their way back to Corneria, until Krystal is disturbed by cries of agony coming from Sauria, but can't tell if they are from Tricky. After Fox and the team clear the planet of Aparoids in the area of what appears to be Walled City, he and Krystal meet up with Tricky, to find he's grown up physically but not in nature. After Fox tells Tricky about the Aparoid Invasion of Lylat, Tricky insists he's going with Fox just like the old days, but Fox assures Tricky that he's needed on Sauria since he's the leader now. Tricky then reluctantly agrees, presuming that Fox and Krystal are married and he says he will get things taken care of so they can come back on their honeymoon.
Tricky appears in the third and fourth Super Smash Bros. as a trophy as his adolescent self seen in Assault. Both game's trophies are identical to each other, whilst the fourth game's info focuses on his Adventures role.
Trophy
Name
How to Unlock
Picture
Description
Tricky
Random

The prince of the EarthWalkers, the ruling tribe on the dinosaur planet of Sauria. He helps the Star Fox team take on the tyrannical General Scales in a battle for control over Sauria. In Star Fox: Assault, Krystal catches a distress signal from Sauria after coming under attack from the Aparoids, and the Star Fox team ventures out to help Tricky and his planet.




Star Fox Adventures (GCN)
Star Fox Assault (GCN)
Trophy
Name
How to Unlock
Picture
Description
Trophy Box
Tricky
Series Related

"When General Scales removes the four SpellStones from their rightful place, Dinosaur Planet literally starts falling apart. Fox goes to investigate, and rescues Tricky, the planet's reigning prince, from the SharpClaw Tribe. Together they go on a quest to restore Dinosaur Planet to its former state."
—NA release 
"When General Scales removes the four SpellStones from their rightful place, Dinosaur Planet literally starts falling apart. Fox goes to investigate, and in the process he rescues Tricky, the planet's reigning prince, from the SharpClaw Tribe. Together they go on a quest to restore Dinosaur Planet to its former state."
—PAL release

GameCube: Star Fox Adventures (09/2002)
GameCube: Star Fox: Assault (02/2005)