Bridget Ann Denmark
Biographical information
Homeworld

Earth

Date of birth

8 BLW

Physical description
Species

Badger/Human

Gender

Female

Hair color

White

Skin color

Black fur, white face marks

Eye color

Bright blue

Chronological and political information
Affiliation
Appearance(s)

unwritten fanfiction

  [Source]
" ...yeah, whut. "
— Equidna
An arwingpedia user with a eccentric attitude, Equidna_rojo (エキデナ・ロホ Ekidena Roho) is known as the "Walking Contradiction," friendly, yet cold; careful, yet reckless. Any thing she doesn't know, she makes a point to learn a little something about. Perhaps that's why she spends so much time on wikis...
The Late Comer to the Series
Edit
Equidna_rojo, sadly had no knowledge of the existance of the Star Fox series until she began playing Super Smash Bros. Melee. After reading some Trophy descriptions, she decided that this series had to be worth checking out! Some websurfing brought her to Fanfiction.net and many other fan-based sites with game information. She desperately wanted to play some of these games! Luckily, she managed to get a Wii, and on one of her visits back home, she grabbed the opportunity to hook the system up to the web and download Star Fox 64 off the WiiShop channel. Sadly, though, she had a hard time getting past the Corneria stage... if she ever did...
A year later, after finding her one true love (and a copy of Star Fox Command) she found out that her fiance was a life long fan of the series, with knowledge of EVERY spoken line in Star Fox 64. He boasted much about his awesome piloting skills. After a few hours of watching him play the way its supposed to be done, Equidna picked up the controller and managed to make it to Titania before losing her first fighter. since then, she has wanted to play every Star Fox game, at least once. Star Fox: Assault is second on her list of "games to play before I die."
Equidna is a devout wiki fan, and loves to do grammer sweeps, and editing. She enjoys organization and speculating (but only only on the discussions pages for the latter! )
A devious Aquarius, and proud Earth Dragon, Equidna studies western and eastern Astrology, and loves trying to figure out the signs for her favorite charachters (Believes Falco to be a Gemini Earth Horse.)
Contributions
Edit
Favorite Character
Edit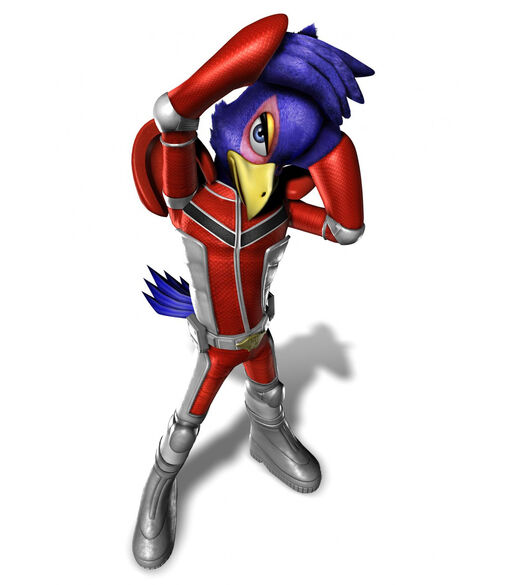 Falco Lombardi FTW!
Other Appearances
Edit