Greetings, I am the Son of Andross (not really), your above average Star Fox and Nintendo fan. I will do what I can to monitor featured pages and near empty ones. I find his majesty Andross to be a severly underrated Nintendo character, even though he is the key antagonist of the Star Fox series (overshadowed by Wolf's popularity I imagine.) I have played all of Star Fox's main games and Super Smash Bros titles, except for the original Star Wing (although I have played the Wario Ware Smooth Moves version, which is close enough) so my Star Fox knowledge is far beyond that of a beginners. I have to agree that Star Fox 64/Lylat Wars is the best in the series, but I like all the other titles (yes, even Star Fox Command, except for its endings).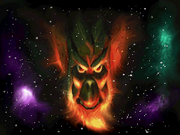 I love the Star Fox series and I hate to see it sullied on this site or anywhere else, so I will do my best to prevent any tom foolery or vandals from wrecking this site.
I like a wide variety of video game series, Nintendo or not so I may be able to determinate information outside the Star Fox series.
Star Fox Series Game Reviews, My OWN unbiased, PERSONAL opinions
Edit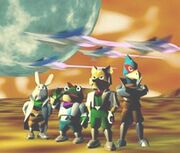 I adore this game so much and its easy to see why people rate this game so highly. I have not yet played the original Nintendo 64 release, (Only the Wii Virtual and 3DS console edition) but maybe someday.
Game Score: 8.5/10 (64) - No Star Fox or fan can say they haven't played this (I know its an ironic statement for me, but the Wii version is exactly the same minus the rumble).
Edit
There is very few flaws with the crowned king title of the Star Fox series other than how the game must be beaten in one long gameplay, maybe more missions would have been an improvement (I know you can't make the Lylat system loose or gain planets). I love the voice acting, its a million times better than the text boxes that Zelda makes you stare at, I even don't hate Slippy's voice or terrible piloting skills. The soundtrack is awesome, (I've heard very few tracks of the SNES games soundtrack) Its easy to see why Nintendo decided not to reuse any of Star Fox/Starwing's music (And no, the SSB series does not count). Why do people seem to think that the Cornerian theme from Star Fox/Starwing is associated with this title?
Favourite Levels - Area 6 and Venom Plains
Why? - Because its the climax of the great war, these destinations are what Star Fox travelled and fought so far and so long for. Area 6 is the general fan favourite for score attacks, while the narrow canyons and overwhelming odds on Venoms surface make these levels the best in the entire game.
Game Score: 8/10 (3DS) - Come on Nintendo, after this game, don't leave Star Fox to fall into ruin!
Edit
Advantages over the original: Better graphics, now we can see finer details on the characters transmission icons and the mission select mode is so time saving, it allows people to try and beat their best scores instead of beating the game in one go, but those are the only real things that I find to be an improvement.
Flaws over the original: I find the voice acting to be too inferior to the more natural sound original version. Its seems they tried to sound exactly the same as before, Nintendo even hired some of the same actors back.
Favourite Levels - Area 6 and Venom Plains
Why? - Because its the climax of the great war, these destinations are what Star Fox travelled and fought so far and so long for. Area 6 is the general fan favourite for score attacks, while the narrow canyons and overwhelming odds on Venoms surface make these levels the best in the entire game. Now we can go back and replay them without playing for a full hour.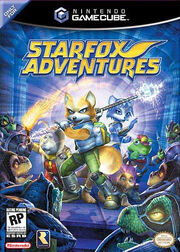 This is actually the first Star Fox game I have ever played; frankly, what a good game Adventures is, even if the critics and hardcores didn't think so. I remember the days when Official Nintendo Magazine UK were glamorizing that the Dinosaur Planet was going to be a massive Zelda beater, due for release Christmas 2001- they even thought Krystal was a Ferret! (Wrong buzzer SFX plays). Then the press had the news, Star Fox Adventures: Dinosaur Planet (And when I got round to playing this game, I was astonished that Rare took the name of their planned game off it. The voice acting is beautiful for those who have never heard other titles. Even if its controversial to hardcore fans of the N64 days.
Although this game is great, its flaws were not getting to fight General Scales and cutting the roles of Peppy, Slippy and Falco down, (mind you Rare did plan on giving Falco more screen time as well as other unfinished ideas), I guess they didn't get very long to complete it before they parted with Nintendo.
Game Score: 7.5/10 - Thanks Rare, you went out with a bang, just like Father Andross...
Edit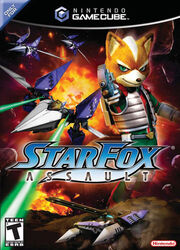 I got this game back when it was brand new, after completing Adventures, I was so happy with this game. It was mind blowing just how Hi tech Star Fox had become after the recent titles with the worn out, disrepairing tech the Cornerain Star Fox characters had. The choice of going between Arwing, Landmaster and Pilot was a good addition. And the AI of the enemies was intense, you couldn't be able to fly in peace without being tailed by the stupid pests.
I have never had any problems with this game at all, other than the fact that the single player was far too short. And, Only SIX playable characters? I'm sure Leon and Panther (Maybe even General Pepper) could have at least been made present in multiplayer. And why are the smart bombs not as destructive as they used to be?
Game Score: 7.5/10 - Truely, an injustice underrated gem! Get it on eBay!
Edit
Favourite Levels - Mission 1,3 and 5
Why 1? - Because at the start of the story mode, its like its the real end of the Lylat Wars between Corneria and Venom, its good for those who have never played Star Fox 64/ Lylat Wars before. It just seems more natural now to me that the Cornerians are finally getting their victory over the Venomians. This is the only mission that covers Andross's absence in this title. It seems to be a general aggrement that the ape has been destroyed forever, but how many agree that its just impossible to die for good in Sci-Fi???
Why 3? - Because around 60% of the single player mode is Pilot's perspective, you just can't not have a favourite level. Sargasso Hideout is once again Cornerians and Star Fox against Venomians and now Star Wolf have shown up for the first time, which is nostalgic. Mind you, I think the whole point of Assault is N64 nostalgia. After this level, Star Wolf make their big anti hero turn of events in Star Fox continuity which fans seem to be cool with.
Why 5? - Because Star Fox is Nintendo's answer to Star Wars, there just had to be an asteroid belt level with lasers here and there and everywhere. It does pale in comparison to the N64 one but the musical remix of that famous Meteo theme is just so gorgeous, like the rest of the games soundtrack. Plus, Fox was finally able to catch the filthy swine who turned his father in.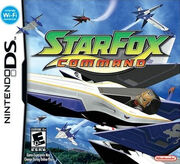 This seems to be the title that every hates most of all. Now the series has the cartoon graphics instead of realistic fur that the older games were famous for. I have noticed that the Star Fox 64 3D characters now look like a blend between their 1997 and 2006 selves, contageous much?
I liked how we could play as other Star Fox characters in the single player mode now instead of being stuck with just Fox; Falco, Peppy, Wolf...James! What more could you ask for? The Pilots even each had their own strengths and weaknesses that made a purpose of choosing them and allowed you to devise a strategy on who would do what missions. Speaking of which, you could choose your own path, just like the Lylat Wars days, adding replay value too!
My flaws with this one is the awful ending system- Now where will the next title go from here???
Game Score: 6/10 - Not bad, its really OK, apart from that ending system...
Edit
Favourite Level - Titania- The Dune Worm
Why? - This level is an absolute must play for this game, Why?, it brings the classic Star Fox Team back together again- Fox, Falco, Slippy and even Peppy! And together, they even meet the ghost of Andross which brings back nostalgia.

Son of Andross (talk) 16:43, August 12, 2012 (UTC)Son of Andross (talk) 20:31, August 3, 2012 (UTC)Son of Andross (talk) 18:35, November 2, 2012 (UTC)Son of Andross (talk) 23:28, December 5, 2012 (UTC)