Venom
Talk

10
578pages on
this wiki
Venom

The opposite to Corneria
Class:
U
Radius:
8,529 skm (5,299.67 mi.)
Albedo:
0.52
Gravity:
1.43
Escape Velocity:
14.84 skm/s (9.22 mi/s)
Equilibrium Temperature:
188 Kelvin (-85.15 Celsius,
-121.27 Fahrenheit)
Atmosphere:
43% N2 + 36% CO2 + 12% CH4
Hydrographics:
0%
Biomass:
0 Quads
Venom is the outermost and largest planet in the Lylat System. It is usually shown to be about half an orbit away from Corneria, meaning that of all of the regions of interest in the Lylat System, Venom is the furthest away from Corneria. It is mostly an uninhabitable world, generally regarded as a place of death and destruction. Andross was exiled to Venom as punishment for performing dangerous experiments that threatened Corneria's safety, and subsequently, Venom became his home world and base of operations during the Lylat Wars.
A harsh world on the edge of the Lylat System, Venom is a cruel planet with conditions intolerable to most life. The atmosphere is highly unbreathable, as there is barely any oxygen whatsoever and it is covered with a very thick smog that keeps much of the light from both Lylat and Solar from reaching Venom's surface. Overall, Venom is a world of perpetual darkness. The surface is barren, broken by rough cliffs and chasms. A vast acidic ocean kills off any straggling attempts of life to flourish. Andross was exiled to this planet for the deadly crimes he committed on Corneria, primarilly because it was believed that he could not survive there. However, he did survive and even managed to make parts of the planet habitable, allowing himself and his formed army to live in isolation on the planet. It has since become his adopted homeworld and base of operations.
Venom has a circumference of 33,000 miles. For comparison, Earth's circumference is just under 25,000 miles, so Venom is a larger world than Earth is.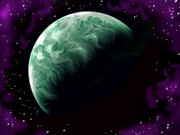 Before the Lylat Wars, this planet was largely unexplored, most likely due to fears that explorers may have had about it. When Andross was exiled to this world, it was considered to be a parallel to a death sentence; few suspected that he would survive to wreck havoc upon the Lylat System. Five years after his arrival on Venom, that is exactly what he did. Andross started the
Lylat Wars
by launching a massive invasion from Venom, which he had transformed from its barren, uninhabitable landscape into a military stronghold swarming with mechanical minions. His forces nearly succeeded in their conquest of the Lylat system, having already reached Corneria at the start of
Star Fox 64
. However, the
Star Fox
team thwarted his every attempt at interplanetary domination, and by the end of the war, they were leading the counter-charge right back into Venom itself, which would lead to his eventual defeat.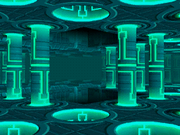 After the Lylat Wars, Venom was mostly left alone, as it was a largely undesirable world that nobody wanted to have anything to do with. It is likely that some remnants of the
Venomian Army
still exist on Venom in some form or another, but the reason why has yet to be seen.
The Anglars come from the acid seas of Venom. When exactly they were born, and how they got there, is another mystery entirely, although one could theorize that the Anglars were an experiment by Andross.
Easy Route
Edit
This planet can be reached from two routes. The "easy route" approaches Venom following the destruction of the Bolse defence satillite. The "harder route" (in both difficulty and name) approaches Venom from a diffrent angle, after a massive battle with the planets primary defence fleet at Area 6.
The easy route is the simpler one by nature. After Star Fox causes Bolse station to meltdown, they then approach Venom directly. The team immediately approaches the planet surface, traveling from east to west as they decend. It initially appears to be an unremarkable level with no apparent resistance and a very boring geography. The team begins flying across the desolate, lifeless wastes of Venom in their final search for Andross. In truth, they have mere seconds with which to digest their anti-climactic surroundings before they are suddenly ambushed by an extrodrinarily numerous onslaught of enemies. Andross bombards the team with wave after wave of enemies, and a few rather deadly parlor tricks in a last attempt to hinder their approach.
Eventually after blasting through waves of foes, and enduring their share of rising stalagmites, flying columns, and minefields of magically appearing metal boxes (all courtesy of Andross), the team arrives at a very ominous stone temple with a long hallway. Fox dutifully dives straight down the corridor into the temple and the 2nd to last boss battle begins as Fox battles Golemech, an enormous stone golem. Golemech, instead of confronting Fox directly, actually seems intent on avoiding him entirely. Unlike all the bosses before, which actively attack the Star Fox team in some way or another, Golemech retreats away from the advancing arwing while tearing appart the temple behind him, sending pillars and statues careening into the path of his hapless pursuer. The resulting obstical course is, unfortunately for Fox, just as deadly as if the creature actually had been trying to attack him outright. After the monster is worn down, it turns out to be nothing more than a machine clad in stone. As soon as the mechanical skeleton that Golemech is eventually reduced to is destroyed, Fox (inexplicably) reaches the end of the otherwise endless hallway. Fox passes out of the temple and flies over a stretch of wasteland with an entrance to the interior of the planet.
"I'll go it alone from here"
--- says Fox as he ignores his team's cries, and flies straight into the structure. The tunnel within the entranceway is perfectly straight, and barely wide enough for an Arwing. Fox pilots his craft along, dodging and destroying a few minor defences. An odd laser beam, arching electricity, and security hatches (which Andross conveniently opens for Fox) are the only things that stand in his way. Doing a somersault manuver would accomplish nothing short of plowing the craft into the ceiling, leading to certain suicide, so this can be nothing but a one way trip.
After enough anxiety and anticipation Fox throttles up and reaches the core of the planet, coming face to face with what he has flown millions of miles for. From the midst of a sinister green fog comes Andross at last, ready to make Fox pay for the many setbacks his plots suffered at the hands of his rival. An intense battle ensues as the Arwing tries to hold it's own as it is smashed with meteors, slapped around, swallowed and regurgitated. Fox manages to destroy both of Andross' disembodied hands before beginning to attack his only remaining weak point, his eyes. Once he does enough damage, Andross's head (now all that remains of him) explodes, shedding an external layer to reveal a mechanical skull with a very frightening cackle. The skull charges the the Arwing a couple of times, but is was no match for a couple of Smart Bombs. The machine, destroyed and falling appart, plunges into the fog before exploding in an immense blast. The explosion ignites the dense fog in the core, creating a blast bigger than any before in the journey, and unfortunately making the situation a lot more ugly for our hero.
Fox, remembering what Peppy Hare told him in Meteo, follows his instincts with fox like reflexes and maneuvers his tail out of the core and tunes his G-Diffuser drive up to maximum, as the blast expands. He gets very close to his death as the wall of fire gradually engulfs the Arwing... the deafening sound of the engines increase in volume as he bolts through the passage. Fox, with a hefty dose of adrenaline surging his veins and his own life flashing before his eyes barely makes it as he reaches the surface and soars up into the hazy atmosphere to rendezvous with his companions, the dome wildly belching fire behind him.
After the intermission, Great Fox and co. head back home to Corneria after a long tiring journey, during this the credits show. Upon reaching their home planet they are then rewarded by General Pepper and offered a meaty rank in the Cornerian Army, but of course, Fox being the brash rebel he is, turns Pepper down and leaves and the final scene comes up as it shows the quartet chasing after the Great Fox on what seems to be the surface of... Venom. Slippy slowly falls behind, but they get there eventually and it shows the Great Fox and our memorable pals flying into the sunset, the proud music ends as maniacal laughter sounds when an image of Andross appears across the sun... undoubtedly meaning that Andross still stalks the system.
In fact, the Boss that fox had just destroyed was not Andross, but a mechanical fake. Fox, by taking the easy route... had been tricked!
Hard Route
Edit
After penetrating the last line of defense of the battlehardened fleet at Area 6, Star Fox arrives on Venom. By this route they decend directly upon the very doorstep of Andross' subterranean lair, taking the fiend totally by suprise. Before Fox is able to charge into the planet the team is challenged to a grudge match by Star Wolf, in a last ditch effort to prevent Fox from entering the planet.
Unlike the other battles, Star Wolf are packing upgrades this time around. Flaunting their brand-new, state-of-the-art Wolfen II starfighters, bought with their blood-money from Andross. The sheer power of a Wolfen II makes an Arwing look obsolete. After a lengthy and brutal battle, the good guy's prevailing piloting skills and valuable teamwork win the day, and Fox McCloud was able to take his plunge deep into the heart of the planet at last to confront Andross.
The shaft leading into the planet is similar to the Easy Route path, except the channel here is less linear and ends up branching out into multiple paths, some of which have certain power ups which will be essential for survival after the punishing engagement with Star Wolf. The shaft here also has more girth. Andross talks to Fox through the com-link, telling Fox how vain his efforts are and that he will feel true pain. Eventually at the end of the corridor Fox emerges into the foggy core of the planet just as in the easy route. The battle also begins in exactly the same way at the beginning.
However, as soon as the finishing blow strikes Andross isolated head, he wallows in pain as the background turns black before he explodes. Yet again, Andross's head sheds it's outer layer, and this time Fox beholds the true and final form of Andross. His form can be summed up with Andross's own words, as he announces "Only I have the brains to rule Lylat".
The ultimate clash begins as Fox enters all-range mode. The lining of the planet core can be seen here, confirming that the battle is indeed taking place in the core of Venom (or, at least, in an oddly spherical subterranean room). Andross starts off by launching his eyes at Fox, which begin seeking him and firing lasers. Fox quickly finds that they are not easy prey, but eventually manages to bring them down. After that he turned his attention to Andross in order to properly finish it all. The brain's outer core seemed to be impervious to the Arwing's Lasers, as Fox quickly found out. But just like every other boss, there was a weak spot somewhere, and Andross had one too. Fox targeted the cerebellum at the back of his brain, but this proved to be an arduous task as the malicious brain teleported right behind Fox and surprised him. The maniacal scientist had only a few ways to attack, including swallowing the Arwing in a writhing mass of tentacles, leaving behind a trail of rocky debris in his wake and ramming himself into Fox doing major damage.
With some genius tactics, Fox maneuvered his way to firing upon on the weak spot and Andross was finished. In his dying breath, Andross shouted "If I go down, I'm taking you with me!", causing an immense cataclysm swallowing up Fox as everything faded to white.
"Don't ever give up my son", spoke a mysterious voice, confirmed by Fox's surprised response, "Father?!" Fox was lucky enough to have survived the initial blast but the self-destruction of Andross' base had begun. The scenario is basically the same as the other route. The last stretch of the mission begins as Fox and his father James McCloud can be seen sprinting back to the entrance shaft like never before, as the chain reaction expands outward. Fox once again dials his G-Diffuser up to max thrust to keep up with his father as he guided him through the labyrinth of tunnels, a fiery death awaits him if he happens to take the wrong turn. As the fire trails right behind Fox's Arwing, James mentions to him several things including "Never give up. Trust your instincts" and "This way, Fox". As the two make it to the exit of the shaft, Fox's father, showing undeniable pride toward his son, tells Fox "You've become so strong, Fox."
They both escape out of the domed entrance as the explosion follows quickly after Fox. James' Arwing quickly disappears into the unknown as Fox races back to Great Fox and his friends. As his team proudly congratulate their leader, he is saddened that his father was gone again. The game ending is quite the same as the other route, except the gamer can relax knowing he had, this time, if fact succeded in exterminating a great evil from the Lylat system and ensured an age of peace which should last at least a while. Instead of showing Andross laugh, it shows a "The End".
This is considered the true ending of Star Fox 64, given how events unfold in Star Fox Adventures.
Other Info
Edit
Venom appeared as a stage in Super Smash Bros. Melee. It is a stage that is available from the beginning of the game. This is also Fox and Falco's home stage, but you face Falco and his teammates on this stage in All-Star Mode.
The battle takes place on the Great Fox. Unlike the Corneria stage, the fight is played on the front view of the ship. Players' characters can fight on either 4 wings of the ship, and somewhat on the tailpiece in the center of the stage. This tailpiece is also a hazard that makes it hard to go to the other side. The top two wings of the ship slope inwards while the bottom two wings slope outwards. Items tend to roll off the two bottom wings of the ship.
Once in a while an Arwing will appear and start firing at the ship then will fly off. Any character that gets hit by the shots will take damage. Also, when the ship flies into the cave, sometimes characters hits the walls of the caves when smacked upwards or towards the sides, which might save one from getting KO'd.
Fox and Falco also have easter egg taunts that cause Arwings to come and shoot the area.
In the Star Fox game, Venom was a grey and black planet. In Star Fox 64, it appears shrouded in green gas from space (although it has a mahogany surface).
In Star Fox 2 Venom is green and grassy, and there are trees and mountains in the background. You can even see a mushroom growing in the immediate area. This may indicate that the planet has been terraformed.
In Star Fox 2 there's is a beta stage on Venom, with neighborhood places around, can be found in the menu screen by selecting '"test" and "Venom" then "Planet Step 06" is unknown if was a beta stage for Corneria.
In Super Smash Bros. Melee, Venom is crimson, brown, rocky, and volcanic.
Venom's hard mode contains a strong reference to the Second Death Star in Star Wars when flying out of Andross' lair after he is defeated.
In the Game Manual to the original SNES game, Venom is listed as the First planet in the Lylat system.
The relationship between Venom and Andross's evil is an interesting one. It was established in Star Fox 64 that Venom was barren, lifeless and deserted before Andross was banished there (making it a remarkably cruel punishment). It was later revealed in Star Fox Command that Andross and his experiments had good intentions, hoping to bring life to the unexplored and toxic world, a hope which had him labelled as a dangerous fanatic, implying a sort of taboo with regards to Venom itself. Moreover, it was not until several years spent on Venom that Andross's evil began to show and he invaded the Lylat system. This could mean that Venom has some evil or corrupting presence of it's own, a presence that either drives people away from the planet or drives them insane.
Another example of this is Dash Bowman, who becomes emperor of Venom in two of the possible endings of Star Fox Command and even has plans to take over Lylat in at least one of them (it may be also implied in the Fox and Krystal ending). This is unprecedented as Dash seemed to be a good kid throughout the game and, like his grandfather, initially wanted to make Venom peaceful and life-bearing. Again this could be due to some unseen evil present within the planet.
This is merely speculation of course, another possible explanation is that Andross, with his unusual psychic abilities, left a mental imprint of his own twisted personality on Venom during his time spent there rather than it having an evil of it's own. It was even said in Star Fox Adventures that "His [Andross] Life-Force is strong. His existence is like a virus. I can hear his breath in every corner of space. He will not only use the evil hearts of others. But he can also corrupt those that are good." This makes sense as Andross tends to create contingencies to ensure his legacy will live on long after he dies (such as his plan to revive himself in Adventures, and his creation of bio-weapons and of the Anglars in Command) and would again explain Dash's change of heart.
It may also be just as likely that it isn't true that the entire family of Andross are somehow genetically predisposed to be evil but a few exceptions.
References
Edit
NINTENDO POWER Star Fox 64: Official Nintendo Player's Guide. Redmond, WA, Nintendo of America. 1997.